VET: Say goodbye to "copy-and-paste". Finally, unit mapping templates in seconds!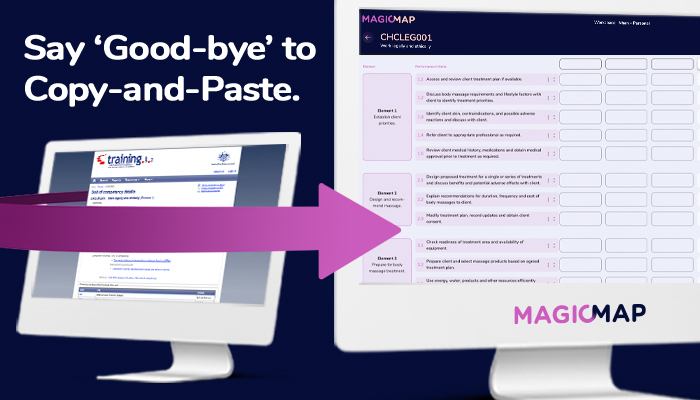 Whilst the Standards for RTOs 2015 don't mandate mapping, an RTO must be able to demonstrate how their assessment meets unit of competency requirements. Mapping is an incredibly powerful tool to demonstrate this!
Unit mapping has traditionally involved wasting hours copying and pasting from training.gov.au just to get your templates ready. No doubt you've asked yourself 'is there a quicker way?'
Finally there is an easy way to eliminate that wasted time from your workflow.
With Magic Map, copy-and-paste is a thing of the past.
Need a mapping template? Type the unit code into Magic Map and generate the template with data from training.gov.au instantly.
In one click, you are able to generate an online template or downloadable spreadsheet containing all the unit information required in a neat and adaptable template. No copy-and-paste required! Watch this short video to see it in action.
Map online with Magic Map's powerful tools before downloading in your preferred file format, or download the file straight away and work offline.
Maps are available to download as:
Mapping online with Magic Map means the benefit of version control, collation, collaboration, traffic light features, and the ability to apply unit updates from training.gov.au to your existing maps in real-time. Work more efficiently with your colleagues during the mapping process, and save hours.
Easily manage unit updates from training.gov.au and apply updates to your existing maps in just a few clicks.
Magic Map offers a free seven-day trial. Visit their website today and say goodbye to copy-and-paste.
http://app.magicmap.com.au/trial