Check Out The Amazing Sponsors of This Year's QLD Schools VET Conference!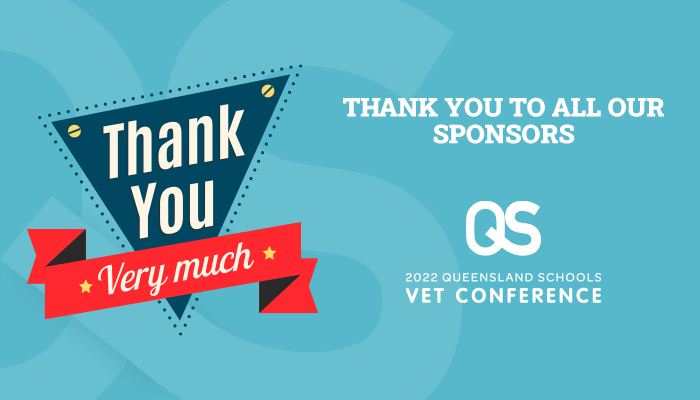 With the 2022 Queensland Schools VET Conference being just a few weeks away, our wonderful event sponsors are building their Virtual Satchels ready for you to download.
Designed to create an awareness of services available to schools, each of our sponsors are providing you with their Virtual Satchels of information and goodies to take advantage of throughout this virtual conference event.
Velg Training are so proud to acknowledge our Sponsors of the 2022 Queensland Schools VET Conference.
To ensure their quality products and services are easy to find with the simple click of a button, we've created our Virtual Satchels Page so you can download their information/flyers with ease.
Check out the Virtual Satchels here.
The event itself is jam packed with a range of sessions designed to reflect the topics that meet your current professional learning needs.
Our aim is to inspire and motivate you!
We really want you to feel like this is an event where you can interact with other Vocational Education and Training (VET) practitioners and hear from presenters who understand your needs, passions and concerns.
As such, the conference this year has been designed for anyone who is involved in the VET programs at your school (including schools that are not registered training organisations in their own right) and is targeted specifically at Principals, Deputies, HODs, VET Coordinators, Careers Advisors and VET Teachers.
So, here's what we have in store for you this year:



Our program is being built specifically in response to feedback received to ensure that the sessions we offer are purpose-built, meaningful and resonate with schools who deliver vocational programs to their senior secondary students, either directly or through external providers.

We have surveyed past attendees and liaised with representatives from

Education Queensland, Brisbane Catholic Education

and

Independent Schools Queensland

to really unpack what impacts you.


See the program we've built for you so far!





















We did our very best in 2021 to be prepared for the impacts of COVID by preparing pre-recorded sessions 'just in case'.

The recordings were well received, but we have taken on board what is important to you – the ability to interact with presenters, the content, and each other in real-time.

This year, mindful of the unpredictable nature of the pandemic and your feedback, the conference will be a live, interactive, virtual, multi-session event.



















You also told us that maintaining currency in training and assessment practice is difficult during a busy school term.

So, we are including an incredible bonus! A

10 x 60-minute TAE webinar recording package

from our extremely popular

TAE PD Week

as part of your conference ticket so that you can undertake PD directly related to your TAE Qualification at any time that suits you.


See Bonus TAE Recordings Here!





















Join us online for this year's virtual conference experience