The New Draft RTO Standards Are Now Open for Consultation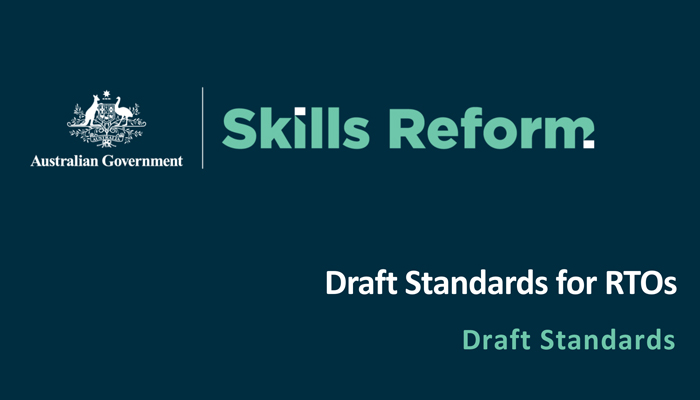 The draft revised Standards for Registered Training Organisations (RTO Standards) were released for public consultation on 2 November 2022 by the Department of Employment and Workplace Relations (DEWR).
Providers and stakeholders are encouraged to participate in the consultation process to ensure the draft revised RTO Standards are fit-for-purpose and effective in meeting the needs of the VET sector.
You can participate in the consultation process by:
reading the consultation paper and supporting resources found on DEWR's quality reforms webpage
providing written feedback using the online survey tool by 31 January 2023
participating in one of DEWR's face-to-face or online forums.
You can learn more about the proposed changes through the following resources:
Stakeholders are encouraged to read the consultation paper prior to providing feedback, as it provides important context for the revisions and details the proposed changes.
Draft Standards for RTOs – Outcome Statements
This document shows the draft Standards on a page, captured through the framework of Quality Areas and Focus Areas supported by outcome statements.
This document is a clean version of the draft revised Standards. Note that the Standards do not reflect all requirements for RTOs and should be read alongside the consultation paper.
Draft Standards for RTOs – Intent and Explanation
This version of the draft Standards includes a technical explanation of the proposed changes and information about the intent of the revised requirements, for the purposes of consultation.
Access more information about the draft revised RTO Standards and to have your say here.