The National VET Conference Is THE Annual VET Event of the Year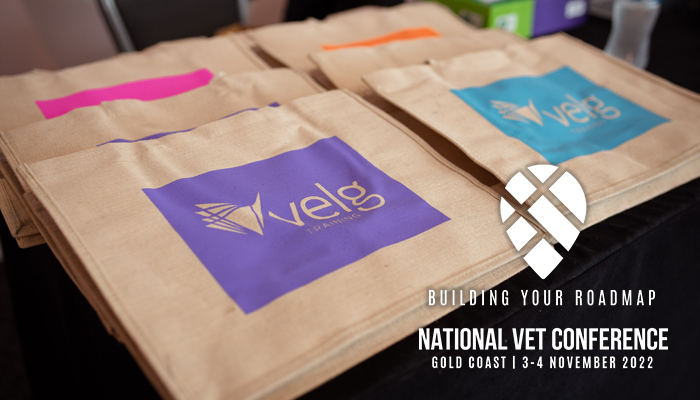 This year's National VET Conference is going to be an amazing event for so many reasons!
The Conference Program itself is filled with an extraordinary array of sessions enabling you to build a customised learning adventure that is all your own!
Don't take our word for it! Have a look at the wonderful line up of presenters and topics making up this year's program here.
Not only is this the annual event of the year for VET sector practitioners, it is also a time to celebrate together at Velg Training's complementary Welcome Function. Included as part of your #2022NVC ticket this year's function is themed Enchanted Wonderland. Providing you with food and drinks, live entertainment, a photo booth PLUS a range of prizes to be won, this long awaited opportunity to party and unwind is back and promising to be an event not to be missed!
Also included as part of your #2022NVC ticket is this amazing menu of culinary treats coming your way on both event days!
In addition to being the prime time for networking with our fellow VET practitioners from around the country, it is also a time to network with the range of fantastic sponsors. Every year they look to help by advising you about the best services available for you and the RTOs you work with. They also provide a range of free goodies for you to take away! So make sure you come prepared to SWAG* it up!
Aside from being THE VET EVENT OF THE YEAR bringing you a plethora of professional learning sessions from the nation's top VET consulting professionals, there is so much happening at the beautiful Gold Coast!
Being the early stages of summer, November is the perfect time to take advantage of this stunning location with its lively restaurants, shops and theme parks, not to mention the many miles of simply breathtaking beaches and surf that is so aptly named 'paradise'. Click here and take a look at What's On in the Gold Coast this November and why you should treat yourself to an extended break beyond the conference itself.
Not sure where to stay? Click here to check out a range of close by accommodation.
So take the opportunity to treat yourself to a well-deserved mini-getaway on the back of this exciting annual event!
When booking your #2022NVC ticket, we have a couple of ticket options available for you. Take a look ...
Come join us in person at the Gold Coast!
Any Presenter unable to present in-person will be Zoomed in live on the day

*


Catch up on the content post event!
All sessions from the conference will be filmed live and the recordings will be sent to you post event, with access to them extended to 30 days

*


So, be sure to take some time for you and your learning journey at this year's National VET Conference.
*

All registered delegates will receive post event access to the filmed recordings from every session across the 2 days
Please ensure you have read our refund policy regarding purchase of National Conference Tickets - Click here for details


* SWAG = Souvenirs, Wearables And Gifts.